There is lot of talk about Open Intivational being bash fest and there is little to no point for AGI/AV7 team to participate as they have more to lose than gain. My personal feeling was, that lof of the opinions is based either on subjective personal experience or being hyperbolled. So I decided to take a look at the last OI, crunch the numbers, and give everyone better idea about whether the above opinions are fact based or feeling based.
So lets start with something simple and difficult to spin in anyones favor.
Generaly speaking the 155 teams netted 2425 SPPs across all the games which is 11.5 net SPP per game (28 SPP brutto). On the other hand there was in average 1 player dead or permanently damaged per 1 game.
Teams that joined Open Invitational
Looking at those numbers tells me that neither of the team type was seriously advantaged/dissadvantaged during the OI. While the AGI/AV7 shows higher amount of permed/dead players if we look at the experience of those players the nicely evens out. On the other hand the bash team lost percentually more experience as when comapred to their participation. Every single type of the teams gained more than they lost in the OI.
Teams that joined Season 9 (446)
Despite bad name of OI for AGI/AV7 teams it had only minor effect on their participation. 33% in season 9 vs 29.5% in OI.
Teams in OI
So after some statistical numbers lets look at the teams that took the biggest losses
By D/P count
By XP lost
So while one Norse team took quite a beating. In the list of lost SPPs in the TOP 23 teams there are 3 Norse teams, 1 Vampire, 1 Skaven and 1 DarkElf. Remaining 17 was bash oriented.
Conclusion
Based on the above I would say that the OI get much worse name than it really deserves. The AGI/AV7 are not really getting the short end of the stick as one would believe reading all the talks about the OI. This is however my own interpretation of the data. If you want to do your own you can hack at it:
And my parting meme: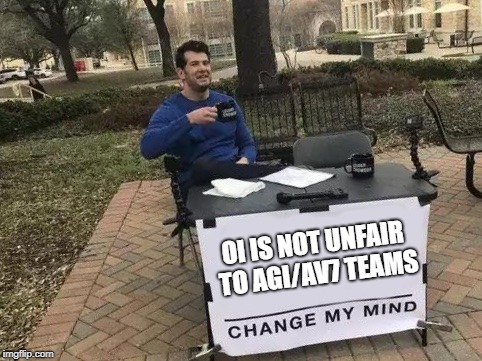 UPDATE:
sbdwiggi had very good point about the drops being taken into account in the above numbers. So I collected:
Average games played by each team type
Seems that AGI/AV7 teams played the most of the games in average. However the difference is negligible.